Medication Adherence and Statin Use in Persons with Diabetes
Star Measures
The Medicare Advantage (MA) Star Ratings program has three medication adherence measures, all of which are heavily weighted, and these measures look to see if prescriptions for patients 18+ are filled often enough to cover 80% or more of the time directed for the following medications: oral diabetes medications, hypertension (RAS antagonists) medications, and statins. Another Star Measure is Statin Use in Persons with Diabetes (SUPD). This measure focuses on whether or not a 40 to 75-year-old person with diabetes filled a statin prescription during the measurement year.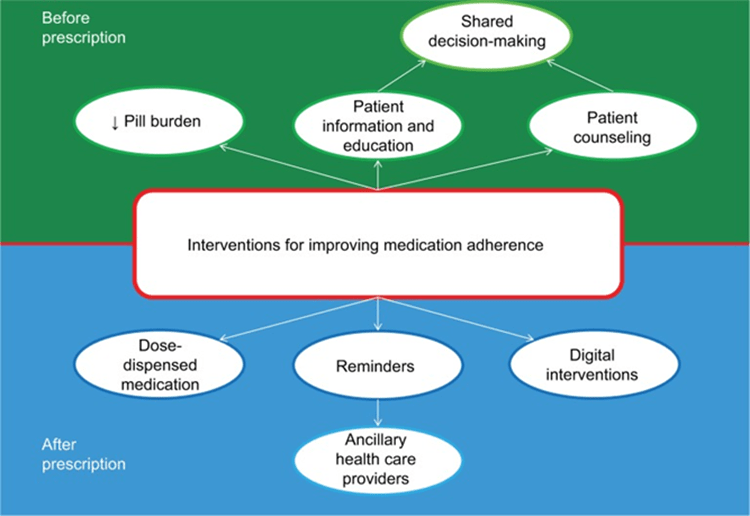 Medication Adherence
When patients adhere to their medication regimen, health outcomes will likely improve. Every patient who is not adherent has a different reason for not taking their medications, including nonintentional reasons like comorbidities and socioeconomic factors as well as pharmacophobia.
Image from: https://www.ncbi.nlm.nih.gov/pmc/articles/PMC5973378/
Opportunities to improve patient adherence include:
Statin Use in Persons with Diabetes (SUPD)
Statins are a proven means to prevent cardiovascular disease, a leading mortality and morbidity for people diagnosed with type 2 diabetes. The U.S. Preventative Services Task Force (USPSTF) recommends use of a low-to moderate-dose statin by "adults aged 40 to 75 years with no history of CVD, 1 or more CVD risk factors [i.e., diabetes], and a calculated 10-year CVD event risk of 10% or greater". If a patient has reservations about using a statin, consider addressing the reservations through education and shared decision-making.
Providers can expect a list of their diabetic ATRIO members who meet criteria for being prescribed a statin in August.
Statin Intensity Categories

These Statins are on ATRIO Formulary Tier 6 with Zero Copay.

High-Intensity

Moderate-Intensity

Atorvastatin 40 & 80 mg

Atorvastatin 10 & 20 mg

Rosuvastatin 20 mg

Pravastatin 40 & 80 mg
https://www.uspreventiveservicestaskforce.org/uspstf/recommendation/statin-use-in-adults-preventive-medication