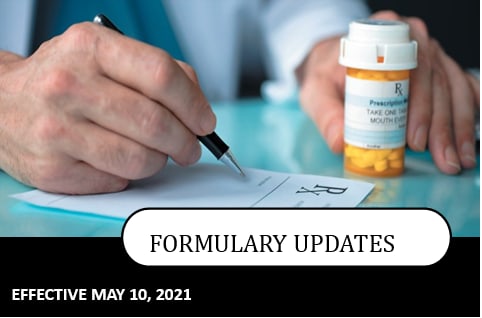 FORMULARY UPDATES
EFFECTIVE MAY 10, 2021
CHA is pleased to be able to remove prior authorization requirements for a number of commonly used medication. This will help to reduce the administrative burden for all and streamline care.
FORMULARY CHANGES:
HYDROXYZINE HCL (PA REMOVED)
HYDROXYZINE PAMOATE (PA REMOVED)
FLUTICASONE NASAL SPRAY (PA REMOVED)
BACLOFEN 10MG AND 20MG TABLETS (PA REMOVED)
CYCLOBENZAPRIINE 5MG AND 10MG TABLETS (PA REMOVED)
METHOCARBAMOL 500MG AND 750MG TABLETS (PA REMOVED)
TIZANIDINE 2MG AND 4MG TABLETS (PA REMOVED)
GABAPENTIN (QTY RESTRICTION REMOVED)
FORMULARY ADDITIONS:
OTC VOLTAREN ARTHRITIS PAIN (NO PA REQUIRED—QL 100 GRAMS PER 30 DAYS)
CHOICE 90 ADDITIONS:
FLUORIDE CHEWABLES
MULTIVITAMIN WITH FLUORIDE CHEWABLES
PRENATAL PLUS VITAMINS
OXYBUTYNIN 5MG TABLETS
Another important opportunity to reduce administrative burden and improve patient compliance is to prescribe 90 day quantities for long-tern generic medications. Eligible 90-day medications for CHA patients can be accessed in our Covered Drugs and on pages 52-53 of the current formulary book. ATRIO covers 90 day fills for nearly all medications that are not controlled substances.